With my birthday coming up in two months, aka July. I always get orientated by making wishlists that have cheaper things and more expensive things. My sister for example always has no clue what to get me so I just show her my wishlist and let her pick what she likes for me. I am actually not that demanding 'gift' wise, I think the idea behind the gift is more important. But yes, I strolled the internet to make myself a wishlist with some lovely jewelry and bags. Read more to see what is from where and why I like it.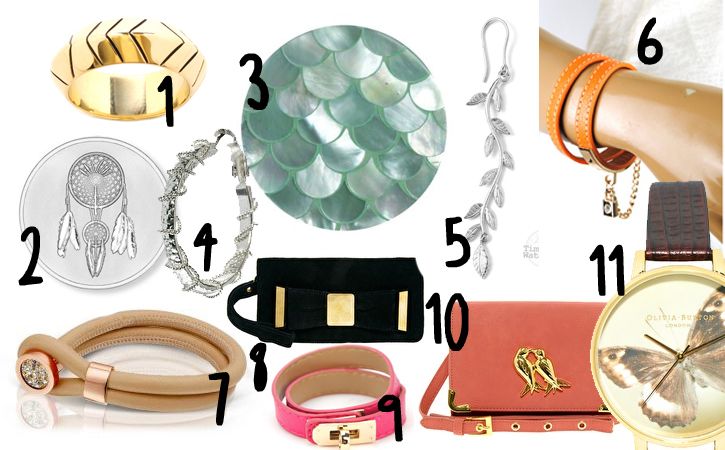 Number
1
has been on my wishlist for sometime now, it is the
House of Harlow
stack ring
in gold for currently €37.11. I adore this ring because of the unique shape and the lines it features. It is great to wear with a full hand of rings. Also I personally am a big fan of House of Harlow. I think there Bohemian inspired jewelry is stunning.
On
2
we have a very lovely coin of Mi Moneda.
This Dream Catcher Coin in Silver
is one of the new collection that you can get at
Time for Watching
. I am still debating on getting this coin in small or large. I am leaning towards small because I have very few small coins to wear that are not gemstones.
Number
3
is also a coin by Mi Moneda and also new collection.
The Oceano
coin is clearly inspired by mermaids and the scales that are prominent on there tails. In my
I-W-B-W #2
I expressed my love for mermaids so I had to include this coin in my wishlist. It is a large coin in Mint but it also comes in white. For only €20 it is a steal!
4
is a pair of earrings at Asos, these
Susan Caplan exclusives for Asos
are inspired by the 80's. There are a few things that I adore about these earrings. Starting with the fact that the hoops are hammered and chained is very lovely, it gives a load of texture and some spunk, but also the fact that these are smaller hoops is great. Normally they are the size of tires and literally take over your face when wearing them. These are big enough to be noticed but small enough not to hang on your shoulders. Also these are only €9.28.
At
5
we have an other pair of earrings, again by one of my favorite brands Dji Dji. There is a lot I can say about these
leaf earrings
but I assume you all can see why I adore them. They are sterling silver and very detailed. I love the hanging leaf design, it can be classy with an updo but it also can work for more casual outfits. You can get these for €59.00 at Time for Watching.
Number
6
is from eBay. I ofcoarse adore eBay if you have not noticed yet and when looking for bracelets I found
this one
. It is real leather or so the add tells me and comes in a load of colors. The thing that attracted me to this bracelet is the hanging lock design.
7
is again from Mi Moneda and Time for Watching. I really could buy 99% off this web shop so many amazing things they have.
This bracelet
is also new, it features the XS coins that are also being used in the rings. I once wrote about how much I loved the rings, I have to admit I like the bracelets even more. The bracelet is leather with rose gold pendant. I am a big fan of the Caramel version I showed but it also comes in brown and orange.
At
8
we have a
little black bag.
You can never go wrong with a little black dress or a little black bag. This leather number is currently on sale for only €10.60 and that price is a steal! I love the little bow accent that has some gold colored metal on it.
Number
9
is also from eBay and also a
bracelet
. This one is faux leather with metal accents, I love the turn lock design that is very much inspired by a designer brand. This one comes in 7 colors my favorite being hot pink.
10
is a bag at Asos.
This kissing bag
design is currently at sale for €17.23 and features a lovely peach color. It is the perfect size for phone, wallet and some little kicknacks.
And last but not least we have
11
what has been on my wishlist even since I layed eyes on it.
This Olivia Burton watch
is amazing in every way. I love the simple design and the butterfly design. It is very classy and fits many outfits, also it is unique enough to be a statement piece. The only thing that lets me down is the pricetag of €83
So what is your favorite piece of my wishlist?
Denna