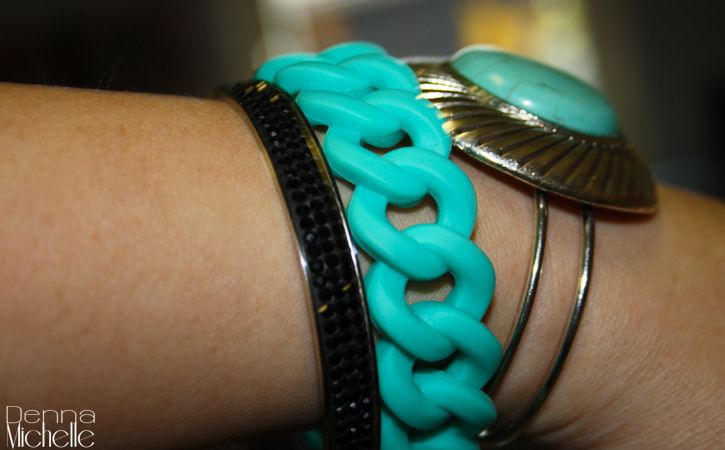 Loving turquoise
Turquoise will always be a stone I link to summer, I love turquoise accents ever since I layed my eyes on a ring that featured this stone. I think it suits many outfits and the color is one of my favorites. I will show you the bracelet that I bought but also a load of bracelets that might be more your taste also featuring this stone.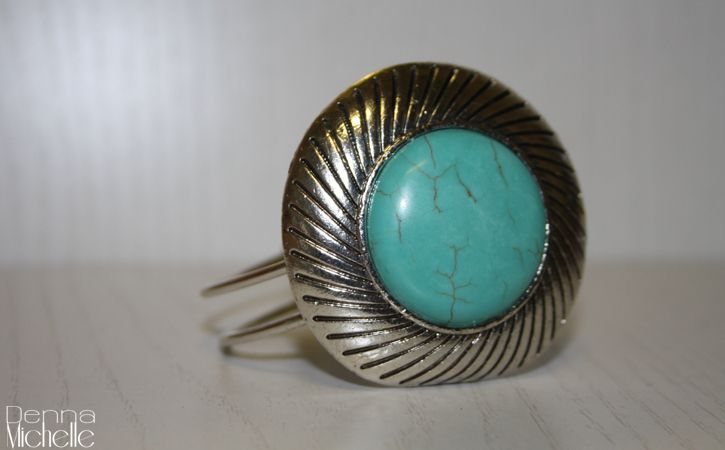 My bracelet
My bracelet is tibet silver meaning it is very similar to pewter with a small percentage of pure silver. Most of this jewelry is pewter based and silver covered. Many fashion jewelry from eBay is made this way, I actually prefer tibet silver over normal fashion jewelry because this is less likely to stain your skin green. I did layer a layer of clear nail polish over the parts that touch my skin but I am not sure if it needed that.
My bracelet is sturdy and roubust and defently a great buy for a cheap price. What I am not certain on if this is real turquoise, it does look like real stone and feel like stone but with eBay and stones you can never be to sure because there are a lot of people selling artificial stones.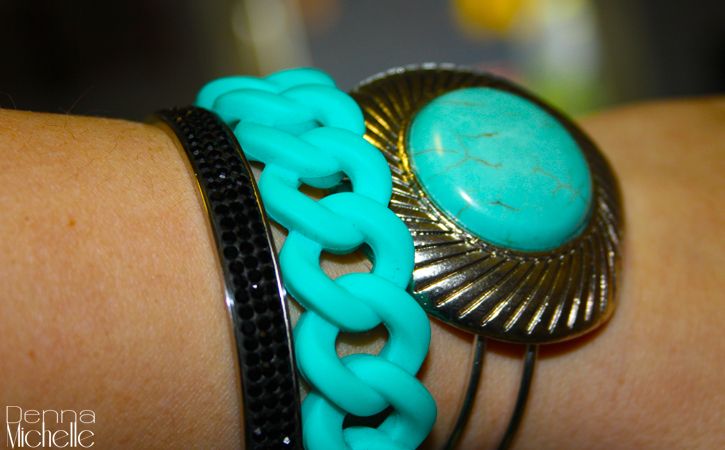 My bracelet came in with a slight dent on one side, I decided not to mail the seller but I am pretty sure they would have offered to send me a new one. I personally prefer the dent because when worn it does hit the upper side of your hand and with the curved metal it does not hurt.
What is turquoise
Turquoise is one of the oldest protection amulets, and was also known as a symbol of wealth in many ancient cultures.The turquoise is the symbol of friendship. It also brings peace to the home.
[1]
I personally just think it looks pretty but I love reading the meanings of stones, I do like the fact that it is a symbol of wealth but of coarse with a bracelet of a few dollars you can not give of 'wealthy women'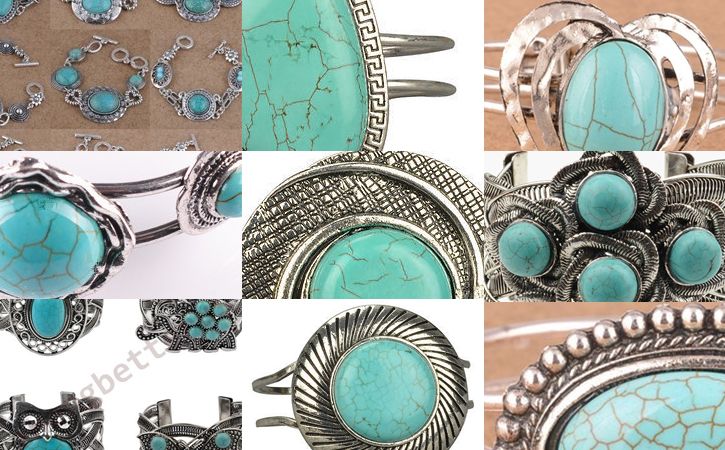 On eBay
I listed these from left to right, some listings feature more then one bracelet.
Number 1
has 27 different bracelet designs all with turquoise and silver.
Number 2
features a bangle with a stone very similar to my bracelet only this one has a different shape and border.
Number 3
has the key feature that the silver part is shaped like a heart
Number 4
is a thinner bangle with three turquoise parts
Number 5
features the same design as my cuff but with a different texture on the silver part.
Number 6
has to be my favorite because it has a lot of design and slightly reminds me of a flower.
Number 7
features 5 different bracelets all inspired by animals including owls, elephants and butterflies.
Number 8
is the exact same bangle that I own.
Number 9
is the most oval one of this list and has a round decorative design.
I think these bracelets are perfect to take with you on a vacation or trip, somewhere where you might harm your expensive jewelry but do prefer not to go 'nude' with your jewelry.
So what do you think?
Denna