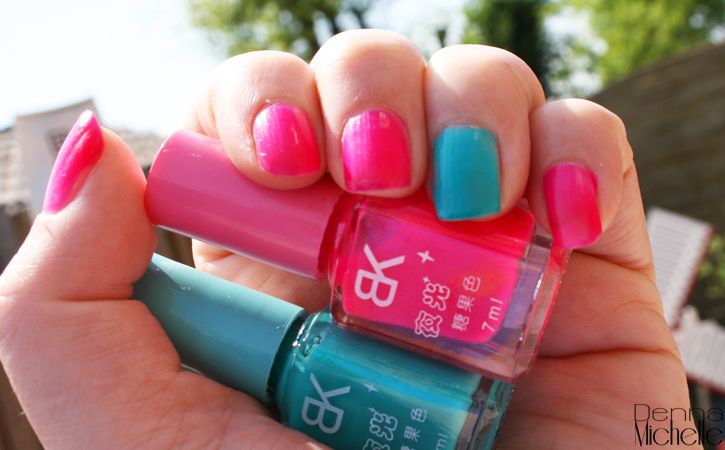 Glow in the dark
I have to admit even when I am 23 going on 24 I am still tempted and I still get excited by things that glow in the dark. So while I was strolling eBay my eye fell on a combination of my favorite things nailpolish and glow in the dark. Now I have to admit I tried glow in the dark polish before but only the kind that was for UV lights, this one works without UV light you only need to charge them up.
Let me tell you about this...
This nailpolish falls right into my vision of eBay, cheap and wonderful. I got
this one
for $1.49 what falls into dirty cheap. I ordered a few but I decided to wear only two shades today. Because neon and bright is a big trend lately I went for the brightest pink I could find
#11
and a blue that sets off against it
#6
.
The polishes come in a 7ml bottle what I think is decent for the price and the fact that it lights up in the dark. The bottle itself is made of glass and survived the trip to Holland thanks to the padded envelope. The
nailpolishes
come in a large range of colors and I ordered peach, green and orange for myself.
On the above pictures I used two layers and I got a nice coverage, ofcoarse because they are glow in the dark they have a different finish. It sort of feels rough but not as rough as sand polishes. As I mentioned a lot these glow and I tested them at night, they give of a nice glow but it seems to take some time before you can see it. I decided to charge them up under a led light and I got a very impressive effect. The pink one glows slightly orange and the blue one a more yellow/green standard glow in the dark shad

So what do you think, are you going to glow this summer?
Denna