Storage
I personally hear a lot about people wanting hints and tips how to store jewelry in a way that keeps it safe and in mint condition but also showcases it. I decided to take some snapshots of my jewelry storage space and hopefully you will get some inspiration how to store your jewelry. This is my current selection of jewelry the rest I own is put in a big box in my bathroom waiting to be pulled out the moment my taste changes.
Where do I store it and what do I have.
It might be hard to see but I put everything on a plank in my PAX bookcase from Ikea. I got the black version that I decided to spice up with some colors so some of the darker boxes stand out more. I used paint swatches in bright colors for that, I had them laying around after selecting paint for some stuff in my house. I do think it gives a little shazam to it all. As you can see I also have a few other things stored on the shelve including my laptop, perfume and some cream.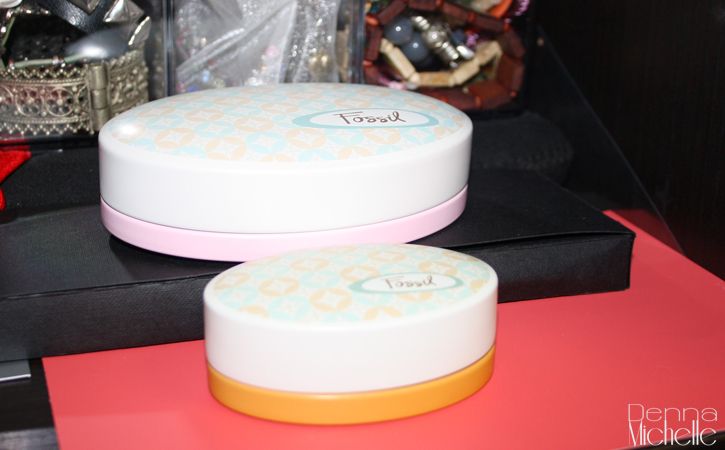 I decided to display my favorite boxes in a way where I can see everything without digging trough clutter. I sorted it in a way where it is visually very appealing but also where my favorite pieces can be takes without moving a lot of stuff. As you can see I put the fossil boxes infront, this is all because I adore the design of the tins. Under the big fossil box I put my
Lydia Wall Leather bracelet
that I am going to wear this summer. The moment I feel like I am going to rock this one it will move a bit forward.
On my jewelry tree
that you can see better here
I hung my statement rings. When I last used my tree I hung everything on it
These pictures clearly show that
but now I decided to hang my statement rings on it. Including my
two ebay rings with stones
botswana agate
and
my favorite purple stone ring
. These are my summer selection and they are easy in reach.
Behind the tree I put up some boxes of 'classy' jewelry. The two bottom black boxes hold my expensive watches and above that I stacked my bright pink
Zinzi
boxes
. I only wear these pieces from time to time so they do not need to be infront of everything. Next to it I have my
Time for Watching, Dji Dji Infinity bracelet
in original velvet bag. I use this one a lot so it has easy access. Behind that I have
My gold name necklace
in original box.
Small
Large
Middle
On the first picture you can see I have a big box filled with bracelets. These are my 'cheap' bracelets and they are sorted thanks to these Ikea boxes. I have the large one and I am debating to get an small one for my more expensive bracelets. These boxes are original for food but I think they work perfectly to sort your jewelry because it has a divider. I divided them by metal, bit more expensive and jelly layering bracelets. I need to dig a bit to get the perfect bracelet but I can see where everything is because the box is see trough I think they boxes will also be perfect for statement necklaces and other jewelry.
Ontop of the ikea boxes I have the original boxes of
my creative use of technologie earrings
and
Joyo earrings
. The little cardbox boxes are easy to see and I can directly get what I need. Next to these boxes I have a tun round cookie box filled with my hair knickknacks including my
rose metal hairbows
and
hair cuffs
. Everything that I got to decorate my hair is in there. Infront of my box I have an earring holder that holds my cheap earrings.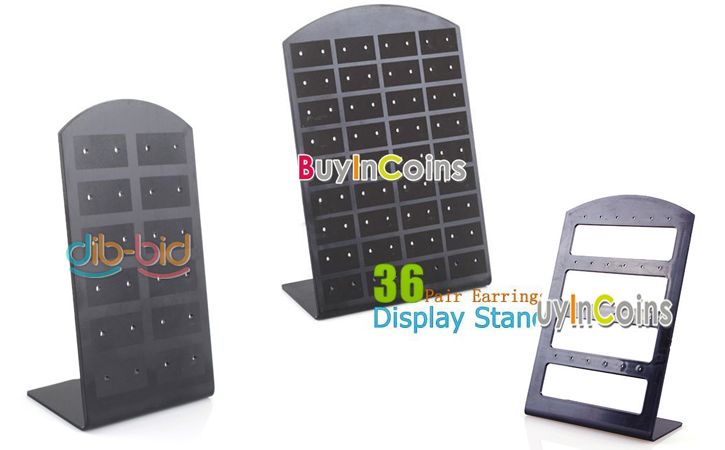 24 holes with hanging part
24 holes
36 holes
The center one is the one I am using for my earrings and it is perfect. It keeps upride and it shows everything that I got.
As you can see i have a lot of boxes littering around. To show what is inside I took the lids of and it is sorted in a very easy way. The front black one has my expensive earstuds. Behind that are my expensive rings in the silver box. And to the side we have a black shiny box with my favorite hanging earrings. Behind that are two boxes that are not really in the picture. The lilac one is under my jewelry tree and holds my slavebracelets, the one with black crystals and a pure silver one. In the black boxes beside it is my collection of coin necklaces and coins.
Going down one story I have my big wood drawers and a box with ribbon. The box with ribbon I got on a market and I put all my statement necklaces and necklaces that I only wear once a month into it. The big pick drawers are filled with jewelry and where my first way to store it all, but somehow my collection exploded and I had to little space to put everything in.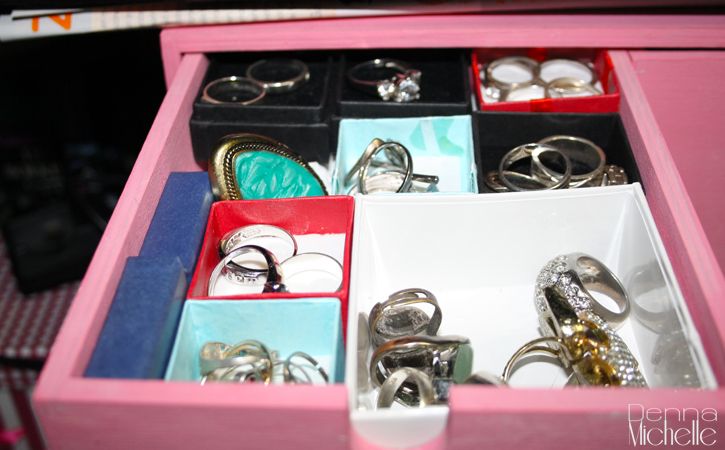 The top left drawer is my favorite. I filled up the drawers with tissue paper and fabric to get it elevated and filled it with many jewelry boxes and lids. I sorted my rings by cheap, statement, expensive, above knuckle and gifts from my granny It gives a great overview and is perfect to directly get what you need.
Below that I have a drawer with some cheap earrings and cheap bracelets and somehow a ring found its way into the drawer. It is sort of my junk drawer.
Next to it I have my dainty necklaces and box of gold. I have very few of these so they got their own drawer. It is put in open and closed boxes and even a pouch.
The remaining three are filled like this. They are all padded with tissue paper and a large jewelry box and inside are my cheap watches. I wear a watch everyday and I like to mix up up. So I got a lot of eBay that cost less them food.
So that is how I store most of my jewelry, I hope you all got some inspiration and liked it.
If you saw a piece of jewelry that you like and would love to know the brand/where I got it do ask, I tried to name as much as I could but I ofcoarse could not mention everything.
Till next time.
Denna