01 Kissing Me Softly
April and May is time for Floral Grunge for Essence. They say it is time for soft pastel colors paired with grungy textures. I have to admit I am not blown away by the collection seeing not a lot stood out to me. But I decided to get one thing that might get some use with me. I went from three lip glosses in a set, I went for the most wearable set, kissing me softly.
The softer set
This set has some nice colors that will fit most looks while the other version 'grungy kisses' has lilac and mint as shades that are not perfect for daily use. So I went for the kissing me softly version that has a glitter, light pink and darker pink shade. The others have no names so I will just call them 'glitter' 'light pink' and 'dark pink' The glosses are 2 ml a piece and if I am correct I payed €2.40 for the set. I think it is a decent price because €2.40 for 6 ml in total is the normal price for a gloss.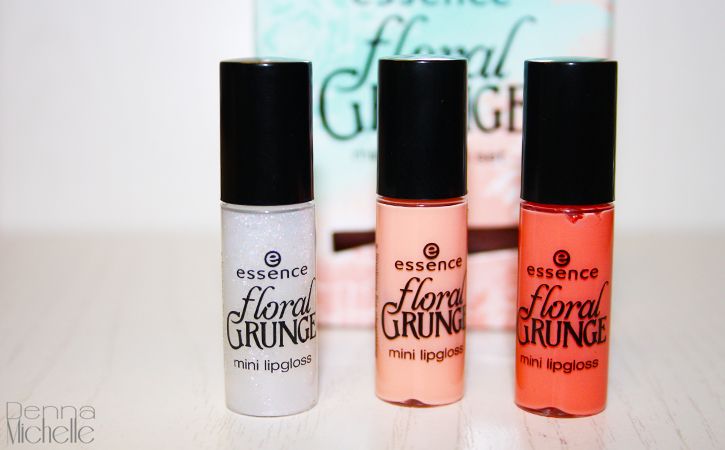 What attracted me to this set is the package, I admit I am a really visual person. I love the mint paired with peach and the flowers all over. It is a nice sturdy cardboard package that can withstand being tossed in a bag. The little book closes with a magnet making it feel far more expensive then it really is and a great thing about the magnet is that the box does not open after shaking it upside down. The inside features a black plastic ribbon that makes it easy to get out although holding it upside down and shaking also works like a charm.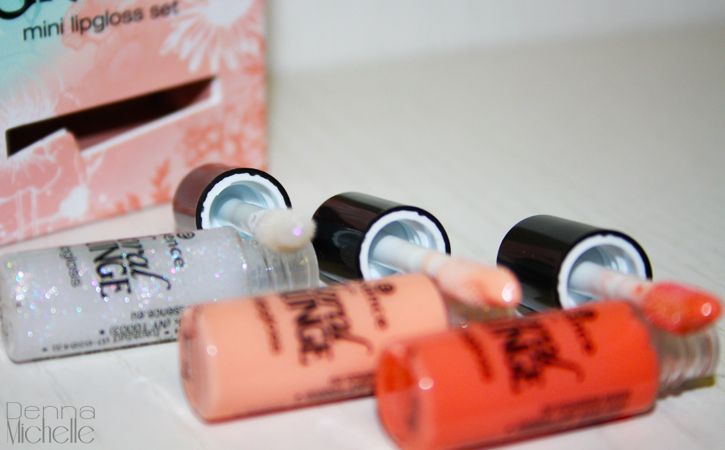 On the lips
Applying these glosses works great and somehow the small short wand makes applying easier. The one downside I can think of is that with bigger and thicker fingers the lid would be harder to hold. But to be honest my fingers are slightly thicker then the normal finger and I have no problem holding this lid, it seems the perfect size for me. The colors are very easy to apply and do feel like real lip glosses They are slightly more sticky then I prefer and they do not stay for a long time. Yet for a quick gloss when you have somewhere to go these are perfect.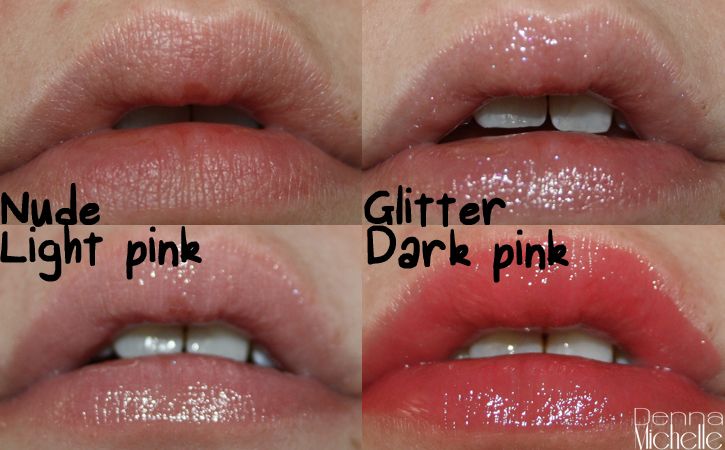 Above I tried to capture how these look on the lips, I showed my lips nude on the first picture and then added the gloss to the others. I have to apologize for the bad lip swatches and semi roughed up lips, I had a dentist appointment and my lips where scaly and horrible so I ripped all the loose skin off.
But on the subject of the polishes, The glitter one is completely transparent with flakes of glitter in white, pink and blue. The light pink one has a nice milky pink shade and the dark pink is the only ones that really gives of color, it is also my favorite out of three. I can see the glitter one being worn over other shades and the light pink being worn over a nude lipstick.
All put together I am fond of this little set but not for everyday use. I personally think this is great to toss into your bag and when you go "Damn, forgot to put something on my lips" you can pull this one out and pick the shade perfect for the situation.
What do you think of this set?
Lots of love,
Denna