Whip your hair...
This Fit Friday I am going to give you all some great suggestions on how to wear your hair while working out. I know there are some people who just workout with there hair loose but I prefer to get it out of the way but in a cute way. So read more for some inspiration.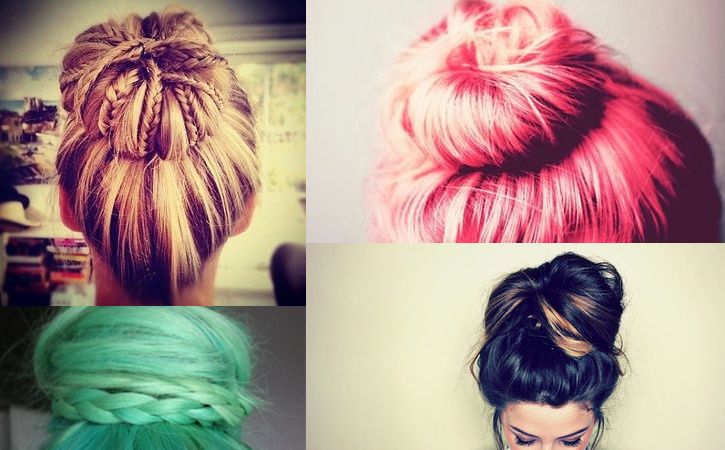 The bun
I think the bun is one of my most used hairstyles and I prefer it over a ponytail. I think a bun is perfect for keeping your hair from getting sweaty and dirty. I rotate between a loose bun when I do Zumba, in between I have time to redo it if my hair slips out, I wear it in a very similar way like the lower right image. When I go for a harder workout I prefer a tight bun with a lot of bobby pins keeping everything in place. Now if you are going to the gym and want to look cute you can also braid parts of your hair like the above pictures. If you want a really big bun I would advice getting a
Hair Donut
and for girls who have trouble making buns
This is an easy tool
Braided
My least favorite style of workout hair, but it is functional. Braids keep hair away from your face and keeps loose hair from sticking on your face. I love the above samples where the bangs are braided away and this could be also used with a bun or ponytail. There are so many braiding styles from normal to fishtail. It is easy and fast to do. For tips on fishtail braiding I would advice this
youtube video
and if you want a challange I would advice the
5 strand braid
.
The ponytail
If I had to bet on something I would bet on this hairstyle being the most worn workout hairstyle. It is the fastest and easiest way to get your hair out of the way. You can wear it high and low and you can 'glam' it up. I prefer to wear my ponytail high with a simple elastic band but I think the lower right one with some hair twisted round it also looks really cool. Also I wear hair cuffs a lot so I think they would also work to decorate your sport hairstyle. You can get them for cheap at eBay in
Gold and Silver
but also
with a skull design
or
pyramid studs
. If you are not a real cuff person these simple
hairs ties with charm
might be something for you.
The headband
So tell me in the comments, how do you wear your hair when working out?
Denna