I can not express clearly how excited I am for this one. I am a very budget bag kind of girl but I decided to get a decent bag for my camera. So recently I walked towards a rather expensive bag store with my goal "A sturdy but pretty bag for my camera" and lady luck was smiling to me because they where having a sale....
The bag
As you can see the bag I picked is a bowler shaped bag that holds a lot of form while being empty. It can be worn as a handbag
what I really really prefer.
But it also can be worn cross body with the long strap that is included. This bag really hits the sturdy mark so making it perfect to hold my camera even when it is not original a camera bag. I made my own padded insert to hold my camera.
David Jones
The brand is David Jones as you can read above, I have not heard about this brand before but I have to admit the bags I saw in store from this brand where very nice. This bag came in a dust-bag in a matching blinding orange shade what I really think makes it seem a tad more special quality wise. I payed a cheap 25 euro's for this bag because it was sale. I have no idea how much this bag normally costs and I forgot to ask the saleslady but this bag is stunning and perfect so I am sure I made a good call getting this one.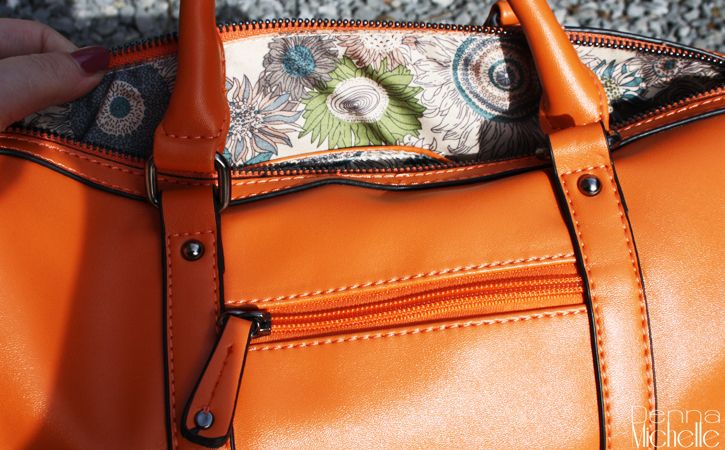 The details
This bag has some stunning details that I tried to capture in pictures, starting with the black accents. Most things are lined with some black making it look a bit more mature opposed to childish orange. Also I have to admit, the color reminds me of the classic Hermes orange. The inside brings a whole new aspect to it in floral. It looks really cute in real life and when opened it makes me smile. The bag has an outside compartment with zipper that has the same lining. Inside their is a phone holder and an other zippered compartment.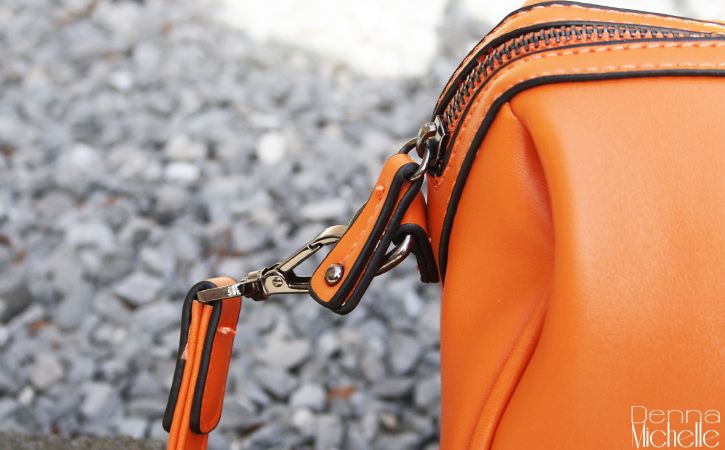 What more can I say about this bag? That I really love it is clear.
So if you see a girl with an bright orange bag taking pictures, Say hi to me!
Lots of love and till next time,
Denna