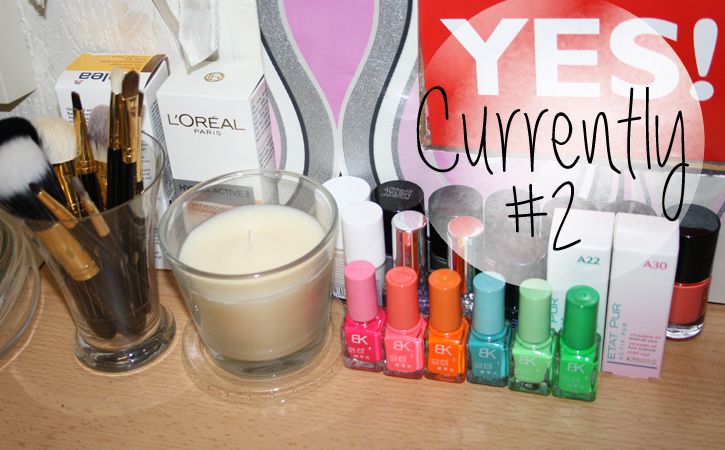 Before I start the second currently I want to thank
Sophie,
ChellesBlog
and
Leonie
who told me that they like the idea of those little Currently updates. I was debating if I really liked writing those kind of articles but those kind comments inspired me to just do it. So read more for my second Currently...
Let me start with
Loving
I am currently loving my new brush set. The brushes are perfect and they did not cost that much. If you want to know what brushes I am talking about they are in
yesterdays article
. They really work like a charm and they look really good on my newly organized vanity table, which you can see in the above picture.
I am really
Laughing
at the fact that somebody found my blog with the words "How to take care of an Ikea plant" Why is really simple because my Ikea plant died a few months ago, strangely enough I can take care of many things yet plants are not one of those. But I am not giving up because I bought a plant that almost needs no water, so that one will survive!
I hope
What I am
Hating
is a hard one because life is pretty good at the moment. Although I am hating the snow, it is coming down with no intention to stop! I had an apointment today that I moved because
me + car + snow = hell.
If you think I am exaggerating this is what my backyard currently looks like
Snow heaven
Listening
at the moment is a Korean song
T-ara with Sexy love
to start I love the music video and I adore the rhythm of this song. Especially the the part right before they start sings, I always do my little awkward dance then. Also
Euphoria from Loreen
is slowly growing on me. I am debating on getting it as my ringtone, I think the
Euphoria!
scream would be a perfect ringtone but the
uhuhuhuh
part also seems suited as my ringtone. My currently ringtone is a hard sound with "Electric shock!" and everything it scares me. I never miss a phone call yet it scares me!
Wish listing
I am a lot this time. Top of the list is this
Dji Dji necklace from Time for watching
and the
Rimmel london apocalips
still have not found their way to me.
What I am currently
Wearing
is not that special. Lately I have been working out a lot so a lot of shorts and T-shirts. Not really pretty but perfect for when you are sweating.
And last but not least I am
Debating
if I should get my own domain name. I hate telling my blog is "DennaMichelle.blogspot.com" it is really really long and I would love to shave the blogspot off. But then again it is really hard finding a hosting package that suits me. And do I really want a whole hosting package or do I only want a name. Still a lot is unclear for me but I am debating it.
So that was currently my currently, tell me in the comments what is up with your life.
Greeting and till next time,
Denna