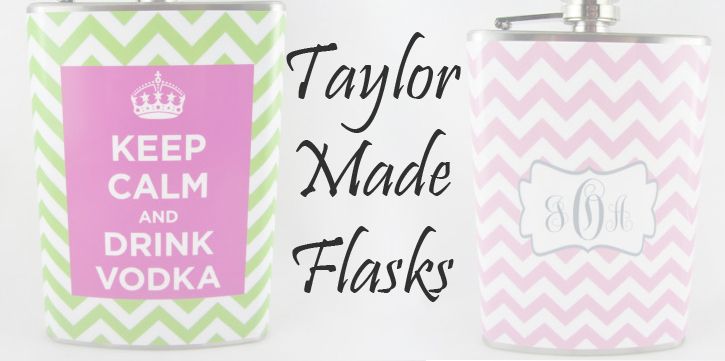 Today I have a very lovely Etsy shop for you,
Taylor Made Flasks
. Taylor sells these beautiful handmade flasks on Etsy. She has
been crafting custom flasks for over a year. Her designs are printed on high quality waterproof vinyl coated with an UV laminate. They are high gloss and durable. Any flask can be personalized. I must say there are many great designs that I want to show you, so read more!
About
A flask or hip flask is
normal
used for
Alcohol
and it is said to be a decent way to drink into public. I think hip flasks are totally making a comeback this year and in a great way. I recently saw a
up rise
in girly and glittery
flasks
that need to be in my bag. Taylor Made Flasks is one of those great stores that has so many flasks that you are surely finding one that suits you. Ranging from 16.79 euro / 22.00 dollar to 22.13 euro / 29.00 dollar I have to say that these do not break the bank. Again I think these are a perfect gift and surely an unique gift.

Now I do not want to say, put these in your bag and drink all day. But these would be perfect for a night round town, as decoration on your desk or as drink bottle when you are walking and you need something to drink water out. These would be a cute gift for somebody turning the drinking age and I admit that hip flasks would be a perfect thing to collect.
Animal
Animal print has been trending for a while now and I admit that animal print is so wrong that it makes everything right. I picked six of my favorite animal prints from the shop. There are many more variations but these six are grand. The first two pink flasks are girly and cute and the yellow and black will suit many people. Also the script used for the name is also very nice.
The next three are more realistic, the zebra in the middle is my favorite with the ombre effect. These would be suited for many people.
Monogrammed
As said I love things with a name or a letter on it. It might have been because I never could get anything in my name. The next two styles are Moroccan which has a letter of your choice on it in rhinestones. I love how the big letter stands out on the pattern and talking about this wonderful pattern you can pick from one of the 33 colors which I think is a lot, so your favorite color has to be in there. My favorites have to be the peachy and the lilac shades. But if your looking for a gift for your male friend they also offer black and army green.
The chevron design also comes in many colors, there are 26 combinations to pick from including alternations between white or black. My favorite has to be number 20 a alternation between bright blue and white. You can also see that one in the below picture.
And now my favorite one! The glitter flasks. These flasks look amazing and I had a hard time picking my favorite. All my favorite colors are in the below picture especially the twilight is an amazing color. Currently you can pick between 15 colors of glitters and this flask will feature your letter. If you prefer no letter these are also
sold plain
but I really adore the version with the rhinestone letter.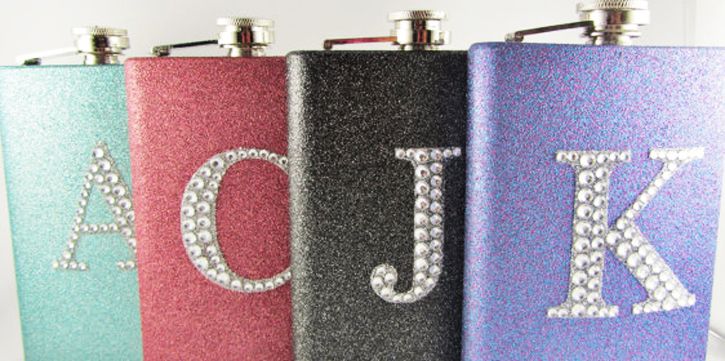 What more?
All the flasks come with a free funnel for easy filling and are packaged in clear plastic with a matching
raffia and a funnel tied to it making it a nice gift to give to others or yourself.
In the shop you can also check out the flasks made especially for
Guys
there are some neat manly designs including wood and bow ties. And for special events or just as a big gift to many people there are also
Sets
available. These flasks come in three different sizes as you can see below.
So I would say check out the
Etsy shop
her own site
and her
Facebook
And do leave a comment telling me what your favorite flask is?