As most of you know that it is that time again,
Catrice
is going to redo there collections and there is a lot of nice stuff that is going to leave and a whole lot of things things that
we get in retun
. I picked two quads and two lipsticks that I do think is worth running to the store for. Today the quads and tomorrow the lipsticks. Read more for swatches and some pretty nice pictures.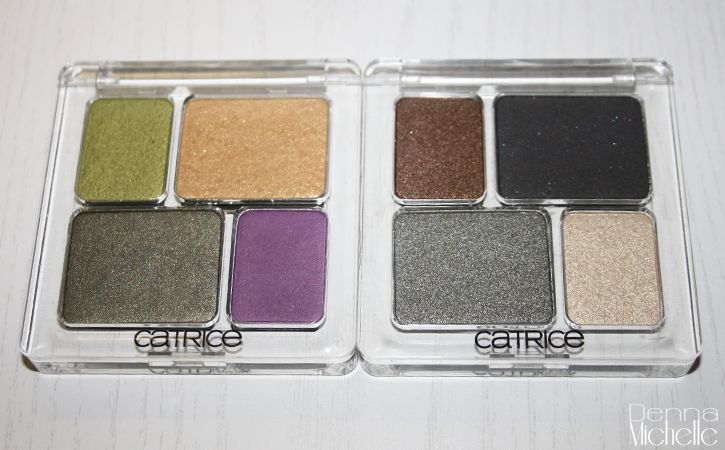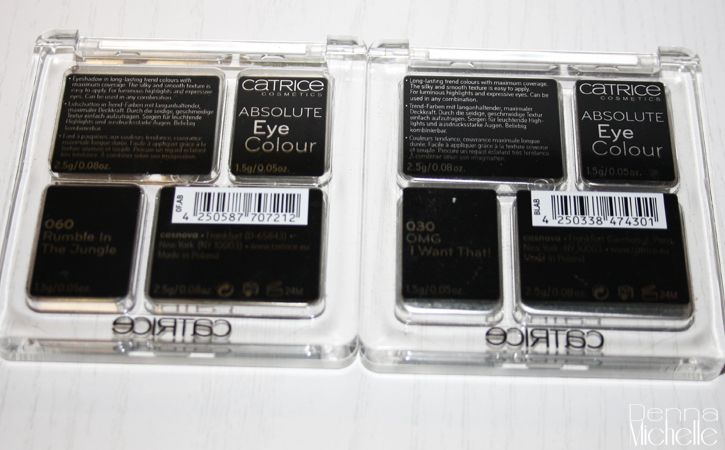 The two shades
I picked up both for 1.75 euro at DM in Germany, I know that Holland has a 50% discount so in Holland they are tad more expensive yet for the price I would totally get them. I must honesty say that I am not a fan of eye shadow pallets because I have my 120 and 88 pallet, you might think I have enough colors.
But yes I picked up these two pallets. Both are the same design having two big and two little pans. I am a fan of the package, it is clean yet stylish. These look very good on many vanity tables but it is what inside what counts.
060 Rumble in The Jungle
Excuse me tooting my own horn, but does this product look amazing in picture or does it? Rumble in the Jungle was the first thing I grabbed from the display, this one was actually on my wishlist but every time I walked into the store I went for the limited editions. I can see this worn perfectly with the gold shade in the corner of the eye, the light green in the middle and the dark green in the crease. And perhaps when I am feeling experimental I am going to use the purple as accent under the eye. What I love about this shades [that you can see the swatches of below this paragraph] is the pigment of the lighter shade of green and the unique shade of dark green. I am a fan! I am not really fond of the pigmentation of the purple but it is decent.
So Rumble in the Jungle, what do you think?
030 OMG I want That!
This shade seems to be named after me because I say that much. I actually use that sentence daily. To be honest I didn't say it when I tossed this in my basket because I normally steer away from natural shades. As you can see from the below swatches some shades stand out and some do not. I can see those four colors in one look, with the lightest shade on the eyebrow bone as highlighter. The silver shade in the corner of the eye .The brown shade as eye shadow and the dark ones as accent in the crease. I am not blown away but I do like these colors.
So yes, run to the store and get these eye shadows Or wait till tomorrow after I showed you the lipsticks I picked up.