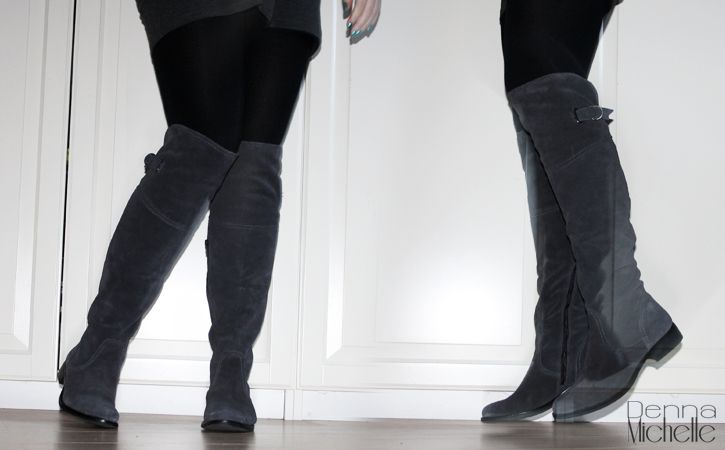 Let me start with the fact that
Van Haren
or
Deichmann
currently has a
50% sale
. They are all over the world so check out if they also have a store in your country because this is the time to be jolly and snap up a pair of nice shoes for a cheap price.
Me and shoes
We all know by now that I have a slight shoe addiction, for a year now I have been searching for a pair of perfect knee high boots. I had it all planned out, I wanted a pair of flat boots and for the year that I searched I only found heeled boots. When I gave up I walked into van Haren because I saw a cute pair of ankle boots. I was browsing till I saw a box that had
Real leather
on it. They where marked down from 90 to 70 euro's and of coarse it was decorated with a tag that said "50% off!" So damn gurl, these boots where only 35 euros. Mentally I went trough my checklist.
Knee high - check.
An other color then black - check
In budget - check
Good quality - check
After checking my four boxes I tried them on and they fit! They fit like a charm and seemed to be made for my calfs. The women next to me was eyeing my as I paraded trough the store with my new boots. It was a sigh that many people liked to watch. A bleached blonde girl with a big smile on her face that pranced trough the store with one boot on and her pants rolled up so high that they could be shorts. I needed these boots in my life.
So......
I say get your butt of the computer chair and run to your nearest Van Haren / Deichmann depending on where you live. They have a lot of great shoes and I bet you will find something that you love.
Also what do you think of my new boots?