So browsing The
time for watching website
I fell in love with some pieces. Accually that is a lie, I fell in love with a lot of things. Now I wear gold, silver and bronze jewelry so I decided to make 3 sets that would be pretty awesome to own. Tell me what is your favorite?
So lets start with gold, I first went for the Cute Coin with the text
All I am I own to you and a cute heart made of a rose.
Next to that we have a bracelet from
DjiDji called Cashmere
, I adore the braided detail. I must admit that I am not a real fan of the lock because it will be hard to put on yourself. So I also added an other bracelet with a lock that I prefer it is the
TOV small hammered bracelet in gold
. I always say I prefer to wear a few chains with small hangers and accents. This
DjiDji heart
is one of my favorites, I would love to receive it as a gift from somebody special. Do you agree? The last thing on the collage is a
Fossil watch
this watch is a beautiful white with a gold accent. I must say I normally prefer white watches for the summer but for special occasional this one is perfect!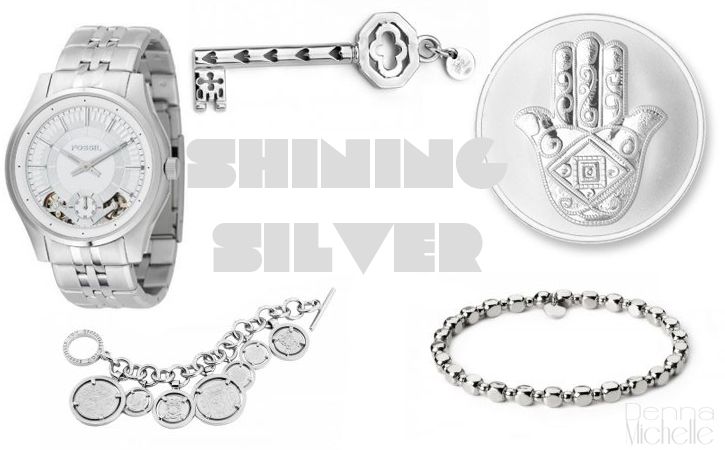 You might not want to go for gold but you prefer a shining silver. Lets start with the
Fossil watch
, I adore the open worked detail on the clock interface and the minimalistic look. Next to the watch we have one of my favorite charms from
DjiDji this key
is high on my Christmas wishlist I love the the amount of detail put into this charm also long skeleton keys are something I adore. Next to that we have an other
Mi Moneda coin
, I own
this coin in rose gold
but I must say it also looks stunning in silver. Next up are two bracelets that I adore, I must say these are also on my Christmas wishlist.
The coin bracelet
is currently 20% off but sadly enough still out of my budget while the
DjiDji bracelet
is more my budget, also this bracelet is stunning for everyday wear next to a nice watch on as a stand alone piece.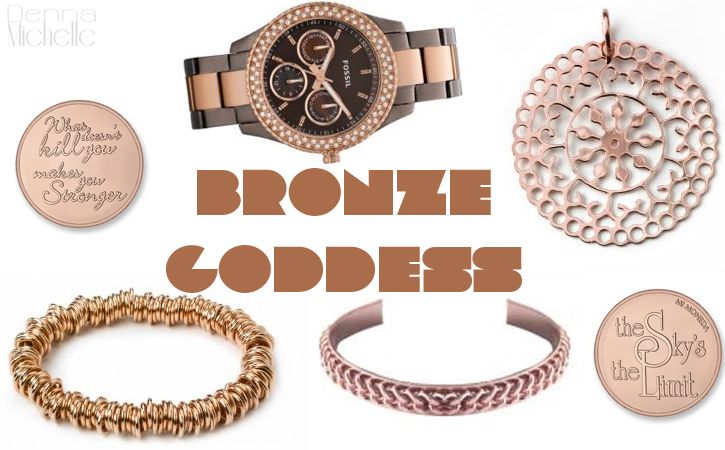 Lets end this with bronze, I must say that I am not a bronze kind of girl because it clashes with my skin tone I semi mixed it with rose gold. Again a nice Mi Moneda coin, I adore the quote off
what doesnt kill you makes you stronger
. Something that you need to remind yourself off from time to time. The pictured
Fossil watch
is one of my favorite watches, the three dials and the combination of brown and bronze/rose is stunning together. Next to the watch we have a
DjiDji charm called rococo
it sort of reminds me of a doily and I adore how it would look next to an other pendant. Then we have two bracelets both very wearable and cute Left we have a
DjiDji bracelet
and right we have a T
OV cuff
that is also currently on sale.
What is your favorite piece and what is your favorite collage? I personally would go for the silver one.