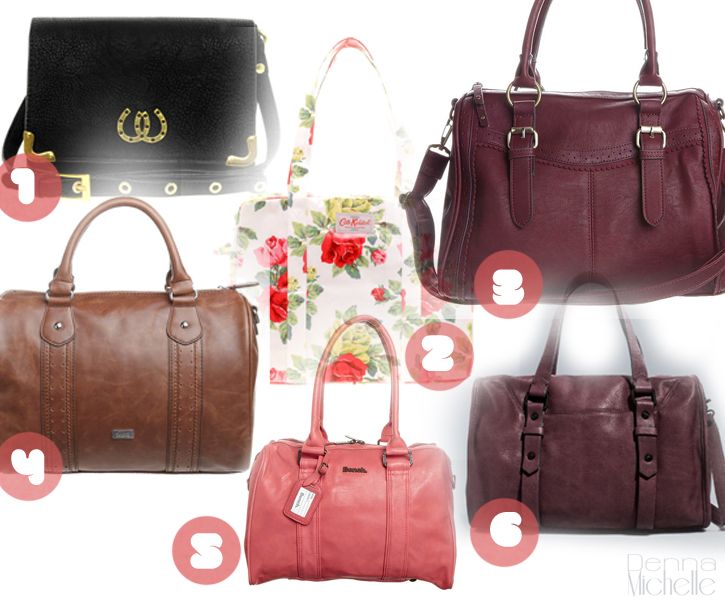 I am one of those people starts early with shopping for Christmas gifts so everything gets here in time. I actually like picking out things for others more then getting gifts myself. I am going to show you some things that I gift starting with bags. My mom is a bag lover and she loves getting bags. Now I have to admit that she is hard to shop for because she is picky, she does not like certain colors and needs to have a lot of pockets. But this year I already found a few bags that she might like....Read more for pricing.
1. Asos has a lovely
horseshoe bag
in there collection and I must say that I adore black and gold together. 30 euro is a reasonable price but a bit high for a the little clutch from the Asos brand. But I love the strap detail. This one is more suited in my eyes for the younger girls.
2. Cath Kidston is a brand that you love of hate. I personally adore the
floral design bag
but need to note that this is not a winter bag. This bag is perfect for spring and summer and for 41 euro it is a perfect gift.
3. Even & Odd is slowly growing to be one of my favorite brands. I adore
the shade of red for this bag
They also have it in brown and black but this maroon reddish shade is lush! For 40 euro's this cute bag is rather cheap. And the key point has to be the scalloped detail in front together with the twin buckles.
4. s.Oliver had
this beautiful bag
priced at 50 euro and in my eyes it is worth every cent. The retro bag is stunning in its shape and design. I am actually lusting after this one for myself. Want it? You can get one at Zalando
5. Bench has never been a brand that appealed to be before. But when I say the
Haute bag
I fell in love with it. For only 50 euros this bag is also on top of my list.
6.
Zara's bowler bag
is one of those bags that you hate or love. Coming in standard black, safe aubergine and in a flashy yellowish tone it is a bag that would fit many people. I actually picked this one for my mom in the pictures color because it looks stunning. 30 euro for a quality bag is cheap and I adore the boxy design.
What is your favorite?