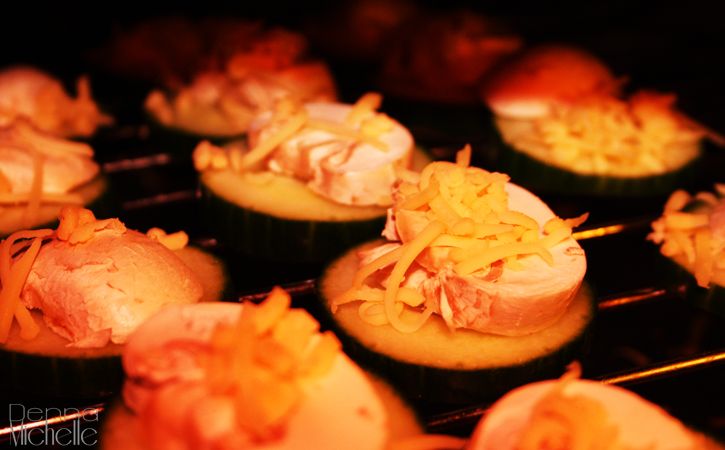 A new segment on my little blog, Fit Friday. Becoming fit and slim is a personal goal. I take good care of myself to live healthy and also I adore training. Now I was debating "Would my readers love to read and perhaps join my goal to become more slim?" I decided that a few times a month I would post on Friday my tip of the week or my favorite workout. My favorite recipe or my just some motivation. Today I am going to share one of my favorite snacks. Eating healthy is a big part of losing weight but we do not want to starve ourselves right?
What
You might think "What the hell are those pictures?" that is my snack. It are slices from half a cucumber topped with a slice of mushroom and some cheese.
Why?
Cucumbers are high in fiber, which is essential when it comes to weight loss, as it helps to get your bowels functioning again so that wastes can be eliminated
[1]
But that is not all
Cucumbers
have a high level of water
actually
they are mostly made of water this means
of coarse
that it is low in
calories
.
Mushrooms are also a good pick in
weightloss
food. They provide a lot of
nutrients and cooked they are a good protein source.
[2]
But most
impotent
of them all "They taste amazing!"
Now cheese is a good weightloss food but I add it at times to give it a pop of
flavor
.
They do add calcium for people who do not drink milk [me]
How?
Now this is as easy a 1.2.3
Prepare the food, slice everything up and layer them with one slice of cucumber one slice of mushroom and optional a bit of cheese.
Stick them in the oven and bake at 220

° for

15-20 minutes.

Take note that they are hot when you take them out. Put them on a plate and enjoy
So what do you think? Are you going to try it out or not?