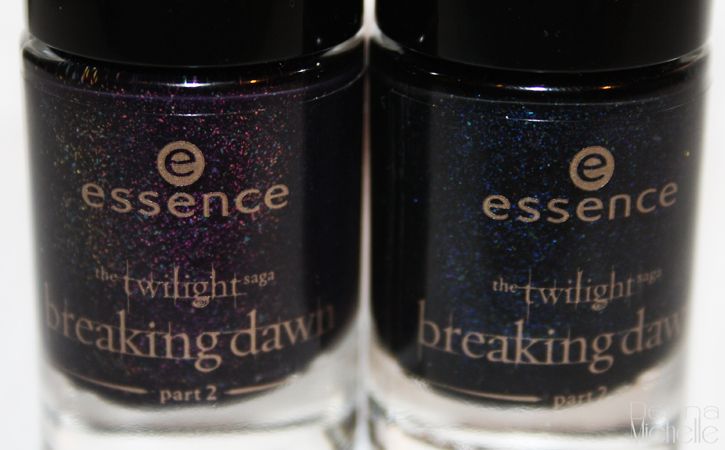 I am not a twilight fan [please do not unfollow my blog for this] yet there where two nail polishes from the breaking dawn collection that screamed my name. I picked these up for 1.95 a piece. Read more for swatches from one polish and my opinion about both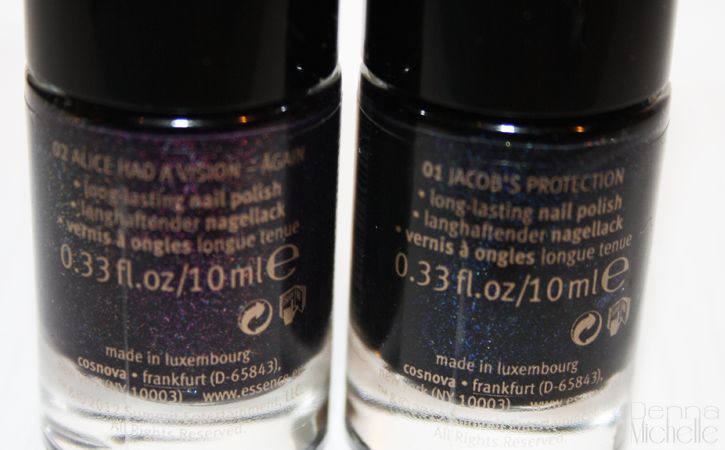 01 Jacobs protection 02 Alice had a vision-again
When I was standing in front of a full display I started to pick up every polish and taking note of the colors. From a distance my first idea was "Dark nail polish, I love it!" For colder days I prefer to rock a darker shade on my nails and for the season I would love a bit of glitter.
But I think that essence had more team Jacob members then team Edward. The Edward polish was a stereotypical black with silver glitters. I didn't want to own that but those two above "Blue and Purple" I love those. Also do note that these polishes have 10ml. They remind me of Catrice polishes.
Also I admit when trying these out they where not my favorite. They need two layers at least and I prefer three with this.
Horrible to take pictures for
I cut my nails short so no good nail pictures. This polish was horrible to take a picture for because the glitters did not catch on camera and most pictures turned out black. My opinion is that the polish look like the above pictures in the bottle.
I must say that I love these two and you need to check them out in the store!