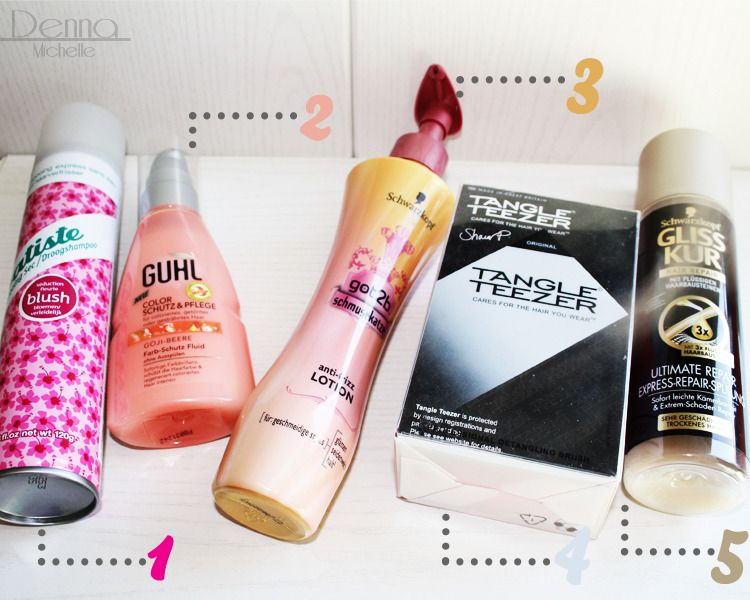 August has gone and September has come and so I decided to show my favorite hair products that I used a lot in August. Read more for the information about the products.
1:
Batiste dry shampoo blush
Hello dry shampoo! I can not live without this brand. The dry shampoo is amazing, I tried other brands but always come back to Batise. I have to admit I first bought this can of love because the package was so cute. As you can see most of the packages I showed have pink in them. I admit they lure me in with the package but sell it with the stuff inside. That is what makes me come back. I have white hair so I do no mind a bit of white sheen when I use dry shampoo, although this kind does not give a lot of white it has a bit.
Just spray a bit and you can go an other day without washing. What I also love about this blush variation that it smells really good. Sure a re-buy over and over. I payed 5.50 euro for this what is kind of expensive in my eyes, yet you get a lot of use out of it and a can can last you a long time.
2:
Guhl: Color care
As far as I know Guhl is only for sale in Holland & Germany but I have to show it. This lovely product smells AMAZING! I never tried products with Goji berries but the smell! It makes hair soft and smooth and smells amazing. I ask nothing more from a product. Now I have to admit this color care product has very little effect on my hair. It does not relive my color yet I do not think that is possible with my hair. My hair is bleached till no tomorrow and does not lose its color. Like the one before this the price is also a tad on the high side in my eyes. You pay 6.69 euro for 125 ml. But it only needs 3 pumps for long hair and so it takes a lot of time to finish.
3:
Got2b
Smooth 'n Chic
The answer against frizzy hair! It smells amazing and smooths the fluffy hair. I am planning a review for this one. But I need to take a few good pictures since the last ones somehow got deleted.
4:
Tangle Teezer
The best brush in my eyes. It does not pull hairs out and is easy to use. It does fly trough the room a few times but so worth it.
5:
gliss kur ultimate repair spray
It makes my hair tangle free and smooth. Lovely and I am a fan of Gliss Kur.